Province of Occidental Mindoro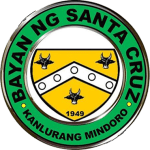 Santa Cruz, officially the Municipality of Santa Cruz (Tagalog: Bayan ng Santa Cruz), is a 1st class municipality in the province of Occidental Mindoro, Philippines. According to the 2020 census, it has a population of 42,417 people. 
Santa Cruz was formerly known as Talabasi during the precolonial era. It is 25 kilometres (16 mi) from Mamburao.
Santa Cruz was created as a pueblo during the Spanish regime. During the American regime, it became a part of Mamburao as a barrio, along with Paluan and Abra de Ilog.
On April 1, 1949, Santa Cruz was created as a municipality once again, by virtue of Executive Order 210, signed by president Elpidio Quirino.
Santa Cruz has 11 barangays as shown in the following table.
Barangay
Population percentage (2020)
Population (2020)
Population (2015)
Change (2015‑2020)
Annual Population Growth Rate (2015‑2020)
Alacaak
9.52%
4,040
3,290
22.80%
4.42%
Barahan
17.74%
7,523
6,339
18.68%
3.67%
Casague
7.90%
3,352
2,838
18.11%
3.57%
Dayap
6.78%
2,874
2,519
14.09%
2.81%
Kurtinganan
3.92%
1,663
1,514
9.84%
2.00%
Lumangbayan
8.38%
3,556
3,037
17.09%
3.38%
Mulawin
10.74%
4,554
3,802
19.78%
3.87%
Pinagturilan
18.99%
8,053
7,710
4.45%
0.92%
Poblacion I
4.66%
1,975
1,821
8.46%
1.72%
Poblacion II
6.37%
2,702
2,594
4.16%
0.86%
San Vicente
5.01%
2,125
2,020
5.20%
1.07%
Santa Cruz Total
42,417
37,484
13.16%
2.64%
Summary data
Type
municipality
Island group
Luzon
Region
MIMAROPA Region
Province
Occidental Mindoro
Barangay count
11
Postal code
5105
Coastal/Landlocked
coastal
Marine waterbodies
Mindoro Strait
Philippine major island(s)
Mindoro
Area (2013)
681.40 km2 

(263.09 sq mi)

Population (2020)
42,417
Density (2020)
62 / km2 

(161 / sq mi)

Coordinates
13° 5′ North, 120° 43′ East (

13.0843

, 

120.7169

)
Estimated elevation above sea level
7.1 meters (23.4 feet)
Map of Occidental Mindoro with Santa Cruz highlighted
References: 
https://en.wikipedia.org/wiki/Santa_Cruz,_Occidental_Mindoro
https://www.philatlas.com/luzon/mimaropa/occidental-mindoro/santa-cruz.html