Province of Occidental Mindoro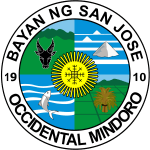 San Jose, officially the Municipality of San Jose (Tagalog: Bayan ng San Jose), is a 1st class municipality in the province of Occidental Mindoro, Philippines. According to the 2020 census, it has a population of 153,267 , representing a third of the provincial population, and is the largest among cities (excluding Puerto Princesa City) and municipalities in the Mimaropa region.
San Jose has the province's largest commercial port and airport, the most banking, business, dining and commercial establishments in Occidental Mindoro, and has become a center of trade in the Mimaropa region. Its major local and international exports include rice, salt and processed milkfish. It was ranked 13th in "overall competitiveness" among Philippine local government units in the 2017 Cities and Municipalities Competitiveness Index (CMCI).
In pre-colonial times, it was named Pandurucan by the indigenous Mangyans after the local river, before later renamed for its patron saint, St. Joseph, the husband of Mary.
San Jose is 173 kilometres (107 mi) from Mamburao. It is located at the southern part of the province with a total land area of 44,670 hectares (110,400 acres). San Jose is bordered on the north by the municipalities of Rizal and Calintaan, on the east by the municipalities of Mansalay and Bulalacao, on the south by the municipality of Magsaysay, and on the west by the Mindoro Strait. Its jurisdiction includes Ambulong and Ilin Islands.
Climatic condition is classified under Type A category and slope is generally flat. Soil composition developed from recent alluvial deposits which are silty-loam to clay loam and landforms consist of limestone and sedimentary rocks. All types of erosion are present: slight, moderate and severe erosion. Eleven (11) rivers and creeks, including the Pandurucan River which runs through the center of town, serve as natural drainage. Mineral deposits includes copper and limestone.
San Jose has 39 barangays as shown in the following table.
Barangay
Population percentage (2020)
Population (2020)
Population (2015)
Change (2015‑2020)
Annual Population Growth Rate (2015‑2020)
Ambulong
1.59%
2,435
2,224
9.49%
1.93%
Ansiray
0.60%
912
1,032
-11.63%
-2.57%
Bagong Sikat
5.04%
7,724
6,564
17.67%
3.48%
Bangkal
0.62%
944
933
1.18%
0.25%
Barangay 1
0.15%
227
283
-19.79%
-4.54%
Barangay 2
0.25%
381
415
-8.19%
-1.78%
Barangay 3
0.81%
1,249
1,323
-5.59%
-1.20%
Barangay 4
0.54%
829
500
65.80%
11.23%
Barangay 5
1.07%
1,640
1,569
4.53%
0.94%
Barangay 6
0.18%
274
398
-31.16%
-7.56%
Barangay 7
0.37%
567
436
30.05%
5.69%
Barangay 8
0.26%
394
348
13.22%
2.65%
Batasan
2.38%
3,643
6,260
-41.81%
-10.77%
Bayotbot
1.91%
2,935
2,492
17.78%
3.50%
Bubog
7.04%
10,792
9,356
15.35%
3.05%
Buri
0.42%
647
607
6.59%
1.35%
Camburay
1.24%
1,896
1,849
2.54%
0.53%
Caminawit
7.71%
11,810
12,223
-3.38%
-0.72%
Catayungan
0.72%
1,110
1,021
8.72%
1.77%
Central
7.95%
12,178
10,901
11.71%
2.36%
Iling Proper
1.45%
2,217
2,124
4.38%
0.91%
Inasakan
0.46%
712
625
13.92%
2.78%
Ipil
0.54%
829
789
5.07%
1.05%
La Curva
2.08%
3,185
3,034
4.98%
1.03%
Labangan Iling
0.79%
1,209
1,070
12.99%
2.60%
Labangan Poblacion
6.26%
9,596
9,683
-0.90%
-0.19%
Mabini
2.30%
3,518
2,938
19.74%
3.87%
Magbay
2.99%
4,583
4,299
6.61%
1.36%
Mangarin
2.38%
3,647
3,410
6.95%
1.42%
Mapaya
5.65%
8,665
7,982
8.56%
1.74%
Monte Claro
2.99%
4,589
3,855
19.04%
3.74%
Murtha
4.17%
6,391
5,985
6.78%
1.39%
Naibuan
2.23%
3,420
NULL
NULL
NULL
Natandol
0.93%
1,426
1,521
-6.25%
-1.35%
Pag-asa
7.83%
12,001
11,232
6.85%
1.40%
Pawican
1.28%
1,956
2,295
-14.77%
-3.31%
San Agustin
3.27%
5,019
5,363
-6.41%
-1.39%
San Isidro
1.30%
1,996
1,785
11.82%
2.38%
San Roque
10.26%
15,721
14,706
6.90%
1.41%
San Jose Total
153,267
143,430
6.86%
1.41%
Summary data
Type
municipality
Island group
Luzon
Region
MIMAROPA Region
Province
Occidental Mindoro
Barangay count
39
Postal code
5100
Coastal/Landlocked
coastal
Marine waterbodies
Mindoro Strait [Sulu Sea]
Philippine major island(s)
Ilin, Mindoro
Area (2013)
446.70 km2 

(172.47 sq mi)

Population (2020)
153,267
Density (2020)
343 / km2 

(889 / sq mi)

Coordinates
12° 21′ North, 121° 4′ East (

12.3529

, 

121.0662

)
Estimated elevation above sea level
7.8 meters (25.5 feet)
Map of Occidental Mindoro with San Jose highlighted
References: 
https://en.wikipedia.org/wiki/San_Jose,_Occidental_Mindoro
https://www.philatlas.com/luzon/mimaropa/occidental-mindoro/san-jose.html