Province of Occidental Mindoro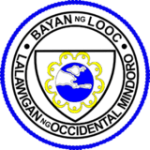 Looc, officially the Municipality of Looc (Tagalog: Bayan ng Looc), is a 5th class municipality in the province of Occidental Mindoro, Philippines. According to the 2020 census, it has a population of 7,802 people. 
The municipality encompasses the eastern half of Lubang Island, as well as Ambil, Golo and some other minor islands. The municipality of Looc is part of the Lubang island group, which constitutes 7 islands which are geographically distinct from any landmasses, making the island group biologically unique – and endangered at the same time. The islands are under consideration to be set as a UNESCO tentative site due to its geographic importance, biological diversity, and intact rainforests.
Looc has 9 barangays as shown in the following table.
Barangay
Population percentage (2020)
Population (2020)
Population (2015)
Change (2015‑2020)
Annual Population Growth Rate (2015‑2020)
Agkawayan
13.39%
1,045
1,554
-32.75%
-8.01%
Ambil
22.11%
1,725
2,035
-15.23%
-3.42%
Balikyas
6.11%
477
760
-37.24%
-9.34%
Bonbon
12.84%
1,002
1,089
-7.99%
-1.74%
Bulacan
7.52%
587
819
-28.33%
-6.77%
Burol
10.59%
826
902
-8.43%
-1.84%
Guitna
5.28%
412
612
-32.68%
-7.99%
Kanluran
6.00%
468
615
-23.90%
-5.59%
Talaotao
16.15%
1,260
1,731
-27.21%
-6.47%
Looc Total
7,802
10,117
-22.88%
-5.32%
Summary data
Type
municipality
Island group
Luzon
Region
MIMAROPA Region
Province
Occidental Mindoro
Barangay count
9
Postal code
5111
Coastal/Landlocked
coastal
Marine waterbodies
South China Sea, Verde Island Passage
Philippine major island(s)
Lubang
Area (2013)
132.30 km2 

(51.08 sq mi)

Population (2020)
7,802
Density (2020)
59 / km2 

(153 / sq mi)

Coordinates
13° 43′ North, 120° 15′ East (

13.7200

, 

120.2499

)
Estimated elevation above sea level
8.8 meters (28.7 feet)
Map of Occidental Mindoro with Looc highlighted
References: 
https://en.wikipedia.org/wiki/Looc
https://www.philatlas.com/luzon/mimaropa/occidental-mindoro/looc.html