Province of Occidental Mindoro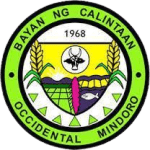 Calintaan, officially the Municipality of Calintaan (Tagalog: Bayan ng Calintaan), is a 3rd class municipality in the province of Occidental Mindoro, Philippines. According to the 2020 census, it has a population of 30,190 people. 
Tagalog is the main language spoken in Calintaan, being spoken by approximately 62% of the household population, followed by Ilocano which is spoken by about 22%.
Calintaan has a total land area of 383 square kilometres (148 sq mi). It is covered in vast rice paddies and coryphas, which are used for making buri. The land area is around 82% mountainous with the rest of it being mostly coastal plains and hills.
Calintaan is 136 kilometres (85 mi) from Mamburao.
Calintaan has 7 barangays as shown in the following table.
Barangay
Population percentage (2020)
Population (2020)
Population (2015)
Change (2015‑2020)
Annual Population Growth Rate (2015‑2020)
Concepcion
12.97%
3,916
3,652
7.23%
1.48%
Iriron
15.28%
4,613
3,934
17.26%
3.41%
Malpalon
7.53%
2,274
2,572
-11.59%
-2.56%
New Dagupan
17.89%
5,402
5,272
2.47%
0.51%
Poblacion
22.72%
6,859
7,173
-4.38%
-0.94%
Poypoy
11.26%
3,399
3,293
3.22%
0.67%
Tanyag
12.35%
3,727
3,930
-5.17%
-1.11%
Calintaan Total
30,190
29,826
1.22%
0.26%
Summary data
Type
municipality
Island group
Luzon
Region
MIMAROPA Region
Province
Occidental Mindoro
Barangay count
7
Postal code
5102
Coastal/Landlocked
coastal
Marine waterbodies
Mindoro Strait
Philippine major island(s)
Mindoro
Area (2013)
382.50 km2 

(147.68 sq mi)

Population (2020)
30,190
Density (2020)
79 / km2 

(204 / sq mi)

Coordinates
12° 34′ North, 120° 56′ East (

12.5713

, 

120.9407

)
Estimated elevation above sea level
10.7 meters (35.2 feet)
Map of Occidental Mindoro with Calintaan highlighted
 References: 
https://en.wikipedia.org/wiki/Calintaan
https://www.philatlas.com/luzon/mimaropa/occidental-mindoro/calintaan.html